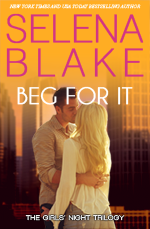 Jessica "Baby" Campbell is desperate.
After being mugged a year ago, fear has taken over her life. Now a stalker is sending her death threats and she'll do anything to feel safe again. Even turn to the man who rejected her so soundly.
Former Navy SEAL Joe Catrell wants nothing to do with the pint sized beauty. She's the spitting image of the woman who betrayed him and crushed his heart into dust. Yet, he can't deny himself, especially when Baby begs for his help.
She's all wrong for him, but wrong …
From the Blog
Giveaways
Interviews
Reviews
Excerpts