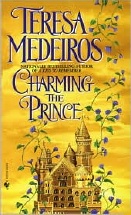 Lord Bannor the Bold is feared everywhere, stories have been told of his ruthless battles where death has been left in his wake, except for one place; home. With a dozen children underfoot and unruly as ever, Bannor decides he needs a bride who can nurture the children and most importantly get them to behave.  Sending his faithful steward to find a bride who can offer that as well as one stipulation, make sure she is unattractive so he won't be reduced to wanting to warm her bed.
Imagine Bannor's surprise when the feisty tempered raven haired beauty named Willow steps out of the carriage. Bannor's initial response is to get the children to make her so miserable she will leave and his conscience will be clear, but Bannor has finally met his match as his castle becomes under siege and demands for his surrender are close at hand.  Will Bannor get caught playing into his own hand as Willow becomes a treasure he can't refuse?
I laughed out loud so much in this book, I couldn't put it down.   A simply wonderful read.  Willow is headstrong and completely throws Bannor for a loop.  I thought this was a deliciously fun read and would pick it up and read it again in a heartbeat.
posted Tuesday, February 22nd, 2011