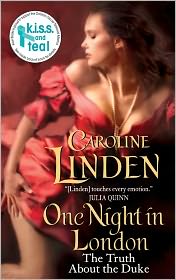 When the Duke of Durham died, his sons felt the usual loss only to have that compounded when they learned of a secret -  a secret that could take away everything they know and appreciate.  Edward de Lacey, one of the sons, sets to try and fix the situation only to cross paths with Lady Francesca Gordon, who is determined to find her niece.  As the two butt heads, they come to a business agreement that shows the potential of becoming so much more.
One Night in London presents quite an interesting premise to these three sons.  Each seems to have taken a different path in life, serving a role unique to them.  For Edward, he was the organizer, the son with the head for business.  He naturally turned to solicitors to find his answer.  He found, instead, Francesca.  Francesca wanted to find her niece.  She first thought Edward was useless but the more time they spent together, the more use they found for each other.
One Night in London is sure to please readers.  It has all the elements of a fantastic read – scenes that will make you smile and scenes that will make you cry; characters that are engaging and fun to get to know; and a plot that is intriguing and thought-provoking.  Above all, we know more is coming for the de Lacey family.  One Night in London is a delightful start to a series that promises to be riveting and one that will leave us anxiously waiting for more.  Caroline Linden is a superb author!
Filed Under:


About the Book:
Genre: historical
ISBN: 9780062025326
Page Count: 384 pages
Price: $ 7.99
Reviewer: Debby


Print This Post
Sensuality Rating: Sensuous
Star Rating: 4.5 Stars
Author's Website: http://www.carolinelinden.com/

posted Thursday, July 14th, 2011