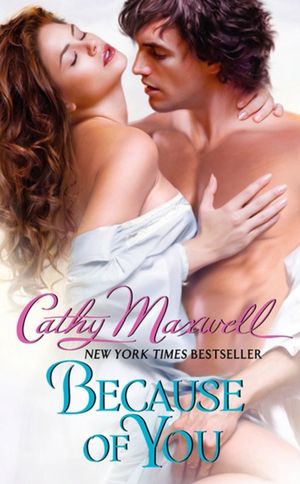 Sabrina Nothrup knows she needs to marry but she wants to marry for true love.  Then a stranger appears on her doorstep one stormy night and Sabrina is put in a situation where she is not only compromised but forced to marry the stranger.  The stranger turns out to be Yale Carderick, the missing son of a Duke, who was disinherited and banished by his father many years before.  Now, he has returned, too late for some things but not for others, wealthy and wanting to prove to his father that he is reformed.  However, he is only somewhat reformed and now he finds himself irresistibly drawn to his innocent wife.  Yale is not sure he is worthy of this women who comes alive so sweetly and innocently in his arms but he is also not sure he can leave her as he planned.
Yale is a delightful hero, full of contradictions and yet filled with honor.  Sabrina was unaware who her bridegroom was and yet, she knew he was what she wanted.  Their love snuck up on them and then refused to be denied, even as the two tried to do just that.
Cathy Maxwell does so much for us in the pages of Because of You.  She gives us a beautiful definition of love all while treating us to feuds, and clever conversations.  At the same time, we learn the true importance of family.  All this is done at the hands of two extremely stubborn individuals.  Cathy Maxwell does a masterful job of blending it all together for our reading pleasure.  Pick up this and Because of You will give you a new meaning of love and family.
Filed Under:


About the Book:
Genre: historical
ISBN: 9780380797103
Page Count: 384 pages
Price: $ 7.99
Reviewer: Debby


Print This Post
Sensuality Rating: Sensuous
Star Rating: 5 Stars
Author's Website: http://www.cathymaxwell.com/

posted Friday, December 30th, 2011