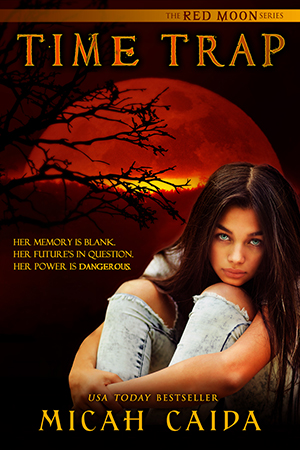 Although The Red Moon series may be listed as young adult and I am way past this age group, I was totally captivated by every scene in the first book, TIME TRAP. The imagination of Micah Caida takes the reader on an exhilarating journey of discovering a world filled with uniqueness in setting and characters.
A young woman mysteriously discovers her name and age when she awakens in an unidentified place, but Rayen can recall nothing else. Although most of what is happening seems very strange, some aspects of her surroundings seem like she should recognize them. When an almost indescribable creature starts chasing her, she flees and runs into another group of people who make her their prisoner.
Those who captured Rayen take her to a nearby school, where she will be given the chance to study if a background check proves she is not a criminal. The seventeen-year-old plans to stay out of trouble and truly hopes her memory returns soon. Unfortunately, an incident plunges her and two other students into grave danger. Now Rayen will have to rely on her wits to keep them alive and try to make sense of what is happening to them, while also trying to uncover any facts about herself.
Science Fiction has never been more entertaining than in TIME TRAP by Micah Caida. The whole concept behind this story is inventive, and there is one startling disclosure after another. From the very start, I could not tell where the storyline was going to go next, and several of the revelations caught me completely off guard. Micah Caida combines the creativity of two authors, and the result is an incredible novel where questions are continuously asked yet often their answers are not easily available. This frequently left me in the dark right along with the characters, and when the truth is finally learned, I was just as stunned as those individuals seeking information. One of the aspects of Science Fiction I like so well is when the impossible seems commonplace, and TIME TRAP is packed with extraordinary yet believable circumstances. Several of the characters in the story face extremely bizarre situations time and again, and they have to quickly adjust their thoughts when facts cannot be denied. I, too, came to consider these events as being possible because of the clever reasons given. Micah Caida had me visualizing everything Rayen had to confront, from physical threats to emotional issues, and each new incident increased my connection to this feisty teenager. Although her life is confusing plus chaotic, she is honest with others and even stands by their side when they seem to be against her. Those with whom Rayen comes in contact as the story progresses are a very diverse group, and her interactions with quite a few of them prove she is a take-charge person. The subtle hint of attraction to the opposite sex is beautifully handled, and any responses are fitting for someone this age. There are numerous teenagers in the first book who play important roles, both female and male, and the set-up for the second book appears that many of them will once again significantly influence whatever takes place in their unpredictable lives. TIME TRAP is originality at its best.
Filed Under:


About the Book:
Genre: Science Fiction
ISBN: 098860793X
Page Count: 334
Price: $ 3.99 (eBook)
Reviewer: Amelia Richard


Print This Post
Sensuality Rating: Sweet
Star Rating: 5 Stars
Author's Website: http://www.micahcaida.com/

posted Sunday, February 17th, 2013